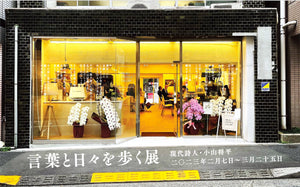 【Exhibition】"walks words and days" is being held! [2/7 (Tue)-3/25 (Sat)]
Hello, this is Yamamoto, the manager.
The exhibition of words with the theme of "walking" has begun!



From 2/7 (Mon.) to 3/25 (Sat.) at ARUKU COFFEE & GALLERY, a 2-minute walk from Otsuka Station, there will be an exhibition of words by Shohei Koyama, a poet and owner of Jiyucho. We are holding a walk!
—

Only with the scenery that my voice can reach
it's not enough

Only with the scenery within reach
it's not enough
.
one footstep
one footprint
Because I can't pack everything up until now
I won't include my life up until now

At the place I finally arrived at, you
we are speechless
will you laugh
you will cry

Embrace that truth
I will continue walking today
.
.
From the theme work "Walk" of "Walking through words and days"

—
This one is part of the work I wrote as the theme work for this exhibition.

Whether you're heading somewhere or trying to walk without a destination, walking means using your own strength to move your legs and build up one step at a time.

When I'm walking, I don't bother thinking, "Why am I walking?" I think I know a little bit why.

why am i here now
Come to think of it, this happened to me too.

I hope that you will enjoy this exhibition while leisurely thinking and envisioning such things.

Along with the exhibition, a collection of 76 poems, "Kotoba to Hibiki wo Aruku", will be on sale at the venue. Please take a look at it.
[Exhibition overview]
Title: An exhibition that walks through words and days
Period: From Tuesday, February 7, 2023 to Saturday, March 25, 18:00
Location: ARUKU COFFEE & GALLERY
Murai Co., Ltd. 1F, 2-27-4 Kita Otsuka, Toshima-ku, Tokyo
free entrance

[Notice of exhibition special project]
Walking through Words and Everyday "Exhibition Guided Tour with a Poet"

■Event Overview This is a guided tour where you can enjoy the exhibition at your leisure under the guidance of exhibition artist Koyama and manager Yamamoto Jiyucho!
We plan to ask participants about their favorite works and answer questions in a casual manner.
This is an exhibition enjoyment project with delicious coffee and poetry collection provided by ARUKU COFFEE & GALLERY. Please join us♪
■ Date and time
2/25 (Sat)
- Part 1 12:00-13:00
- Second part 15:00-16:00

▼ Click here to apply for tickets
https://kotobatoaruku.peatix.com/

[About the exhibiting artist: Shohei Koyama]


Poet, owner of Jiyucho. The "Exhibition of Encountering Words" series, in which poetry exhibitions are held in various commercial facilities, spaces, and travel destinations, the "TOMOSHIBI LETTER," a letter set that can be sent to yourself one year from now, and the "Connecting Bookshelf," which explores new forms of bookstores. ] and other projects. Many media appearances. He writes poems and essays every day on the Jiyucho website "This morning's graffiti". I like music, manga, anime, movies, coffee, tonkatsu, curry, ramen, eggs Benedict, and ice cream.
Various SNS: https://linktr.ee/shoheikoyama

[About ARUKU COFFEE & GALLERY]
A new style of coffee and gallery that provides an opportunity to make walking more enjoyable. (Opening in October 2022)

Murai Co., Ltd. has opened a place where people can connect with the community and people through "walking" by making use of their long experience of working with "feet and shoes".



In a space that offers specialty coffee, we have an exhibition on the theme of "walking", try on and sell insoles, pads, room shoes, etc., and free foot measurement.

Online Store Products
A letter that you can send to yourself one year from now, a regular mail that looks back on the month and summarizes it in one volume, a monthly collection of essays, etc. Products that color the time you spend facing yourself. You can enjoy it at home. Feel free to try it, by all means.