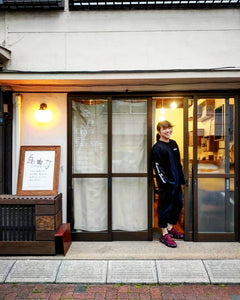 オーナー小山のインタビュー記事公開!
こんにちは、店長の山本です!
インタビュー連載「ぼくらの現在地」にて、我らが自由丁オーナーの小山くんを取材頂いた記事が公開されました!

社会に出てから数年経つ、悩めるお年頃の30歳前後の若者が、どんなことを考え生きているのかをテーマに書かれているというこちらの連載。

小山の記事はこちら
「わからない」を受け入れて、肩肘張らずに「自分」を生きていく。

タイトルから自由丁っぽいというか、小山っぽくて、よいですね^^

・プラモデルの説明書は絶対見たくないんだ。
・第一志望の会社の内定を辞退しちゃった。
・「わからない」をよしとしたい。文章も。人間も。

↑こんなことしたり言ったりしてると、「何を考えているか分からない」と言われることもある(笑)小山の考えや、生きてきた軌跡を、読みやすく優しくまとめてくださった記事になってます。
記事の感想のシェアやいいね大歓迎です!
投稿の際にはぜひ #自由丁 をつけてくださいね!

そして、本稿の後編は今週金曜(5/14)に公開されるそうです。
ぜひそちらもお楽しみに〜!

P.S.
写真はハニカミ笑顔の小山くんです。
最近はランニングに励んでいるそうです。
次回、投稿に姿を現す時はどんなスリムな体になっているのか、、、楽しみですね。(笑)
Online Store Products
A letter that you can send to yourself one year from now, a regular mail that looks back on the month and summarizes it in one volume, a monthly collection of essays, etc. Products that color the time you spend facing yourself. You can enjoy it at home. Feel free to try it, by all means.